Football Town has opened its first physical store in Europe in St Christopher's Place. The popular football-inspired lifestyle brand opened its doors in early October, perfectly timed to grab some apparel ahead of the World Cup.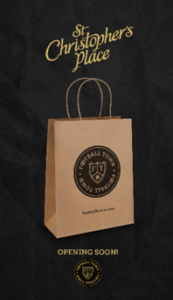 The company was founded in 2016 with the aim to redefine football fashion with innovative and iconic products. Inspired by this vision, the brand creates unique and timeless collections of sophisticated fashion for football lovers who will be proud to wear Football Town products, not only at football stadiums but anywhere they go.
Football Town started as a family hobby and it is today a global football fashion heritage brand, headquartered in the Netherlands. The iconic products are sold all over the world, made in Portugal and Perú with high-quality standards and premium materials. The products are designed by Emilio Sansolini, a star designer who reinvented the vintage concept and revolutionised elegance and minimalism in football fashion. His designs have been featured all around the world including the most popular football game on earth, FIFA EA Sports.
Collections are made up of everything from shirts, jackets, tracksuits and shorts, to footwear, headwear and underwear. You can even find vintage football balls!
Co-founder, Emilio, commented, "We're thrilled to be opening our first ever retail space in St Christopher's Place. We can't wait to get started and look forward to welcoming everyone to our new store. Football is not just a game, it's a way of life."
Watch this space for some exciting in-store activations!
Football Town is open 10am-7pm Monday to Friday, and 11am-6pm on Sundays. The store will be open until early January