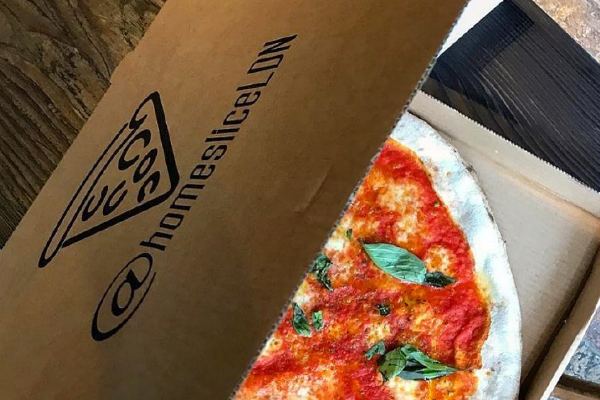 All your pizza dreams have been answered, with Homeslice@Home. The pizza connoisseurs are serving up their signature 20-inch gourmet pizzas for delivery and contact-free collection from their St Christopher's Place restaurant.
Residents of our restaurant-lined James Street since January 2019, Homeslice took the decision to close all their sites in-line with government advice last month. But now, with the help of Supper London, they'll be offering a delivery and contact-free collection service to those living nearby the central London restaurant.
But, it's not just their delicious pizzas, they'll also be offering a selection of their exclusive soft drinks, beers, ciders and wines to you at home.
To get your pizza-fix, just give them a call on 020 3034 0621 or order through Supper London's website. Phone lines will be open from 3pm Wednesday to Sunday, with delivery or collection from 5pm until 10pm.
Plus, in true generous Homeslice style, they'll be running a Weekly Charity Raffle to win four free Homeslice pizzas, delivered straight to your door. Raffle tickets cost £10, with all proceeds being kindly donated to NHS Charities Together which supports and champions the work of our extraordinary staff on the front-line.
Most importantly, the safety of their customers and their team remains their top priority. Not only have they reorganised the restaurant to make sure everyone will be safe, with social distancing and rigorous hygiene protocols. But they're only putting their most experienced and trusted people in place to cook for you.
It's all about making great pizza again for their local community to enjoy and keeping 'cheesy' smiles on all of your faces. So, why not get involved?