St Christopher's Place teamed up with Westminster City Council and The Big Issue for World Homeless Day 2019 to raise awareness of the small changes that can make a big difference to those in need.
First let's start with the numbers. According to Westminster Council, 2,512 people slept rough on the streets of Westminster last year - the highest number in the country. Plus, with the added dangers on the streets, tragically, 47 is the average age of the death of a rough sleeper.
It's important to understand that homelessness doesn't just include those who are living on the streets but also those who are in unstable living conditions, such as squatting or being exposed to violence in the home. Countless charities across the UK work to provide affordable housing, benefits and support at the right time so people aren't pushed to the brink of homelessness.
Whether it's taking time out of your day to smile, wave or have a chat with someone who's sleeping rough, becoming aware of the local campaigns and charities and alerting them if you're concerned, or donating to a legitimate charity to directly help move the issue forward.
Get to know The Hidden Network (Westminster City Council)
We bet you didn't know that Westminster City Council (WCC) spend more resource on rough sleeping than any other council in the UK. Every year they provide over 400 commissioned beds to those in need, through registered 24 hour supported services and shelters.
WCC's most recent venture, the Hidden Network, is made up of dedicated professionals and volunteers who work around the clock to end rough sleeping in Westminster. They provide a range of services such as counselling, befriending and addiction recovery, and they help with securing long-term employment and accommodation.
Every contribution makes a difference, so if you find yourself in our piazza this World Homeless Day, keep an eye out for their volunteers who will be there to answer all your questions. There's also opportunity to donate on the spot to those in need, or you can donate online here.
Partners with Turning Point, The Connection at St Martin's, St Mungo's, The Passage, Look Ahead, West London Mission and Westminster City Council's specialised services. Your donation will be split equally between all six charities, enabling them to further their life-changing work.
The Big Issue have gone cashless with iZettle
The Big Issue Magazine launched in 1991 in response to the growing number of rough sleepers on the streets of London, by offering people the opportunity to earn a legitimate income through selling to the public.
Big Issue vendors are classed as micro-entrepreneurs, effectively running their own small businesses. They buy magazines from The Big Issue for £1.25 each and sell them to you for £2.50, keeping the profit.
Showing support to your local vendors means that they can continue to sell and earn a legitimate income. They are also supported by The Big Issue Foundation whose mission is to connect every Big Issue vendor to support and personal solutions that enable them to rebuild their lives and determine their own pathways to a better future.
But now, less and less people are carrying cash in the increasingly contactless society we live in. So, The Big Issue responded in 2018 by partnering with iZettle to launch a trial that allowed vendors in five cities across the UK to accept contactless payments. The idea: to enable them to earn an income that they wouldn't have had access to previously.
St Christopher's Place dedicated The Big Issue seller, Keith, is one of the vendors that has made the move to contactless. He said: "The card reader is really good. I've made lots of sales on it. The majority of people still pay with cash, but it has helped me to get new customers that I would otherwise not have. I'd say I sell an extra 10 copies of the magazine each week because of it."
Meet Keith, St Christopher's Place dedicated The Big Issue Magazine seller
Keith has been our The Big Issue Magazine seller for 18 months and has become a recognised and appreciated member of our community who always up for a chat. You'll usually find him at the end of Gees Court, so make sure you show him some love.
Find out his Vendor Story below…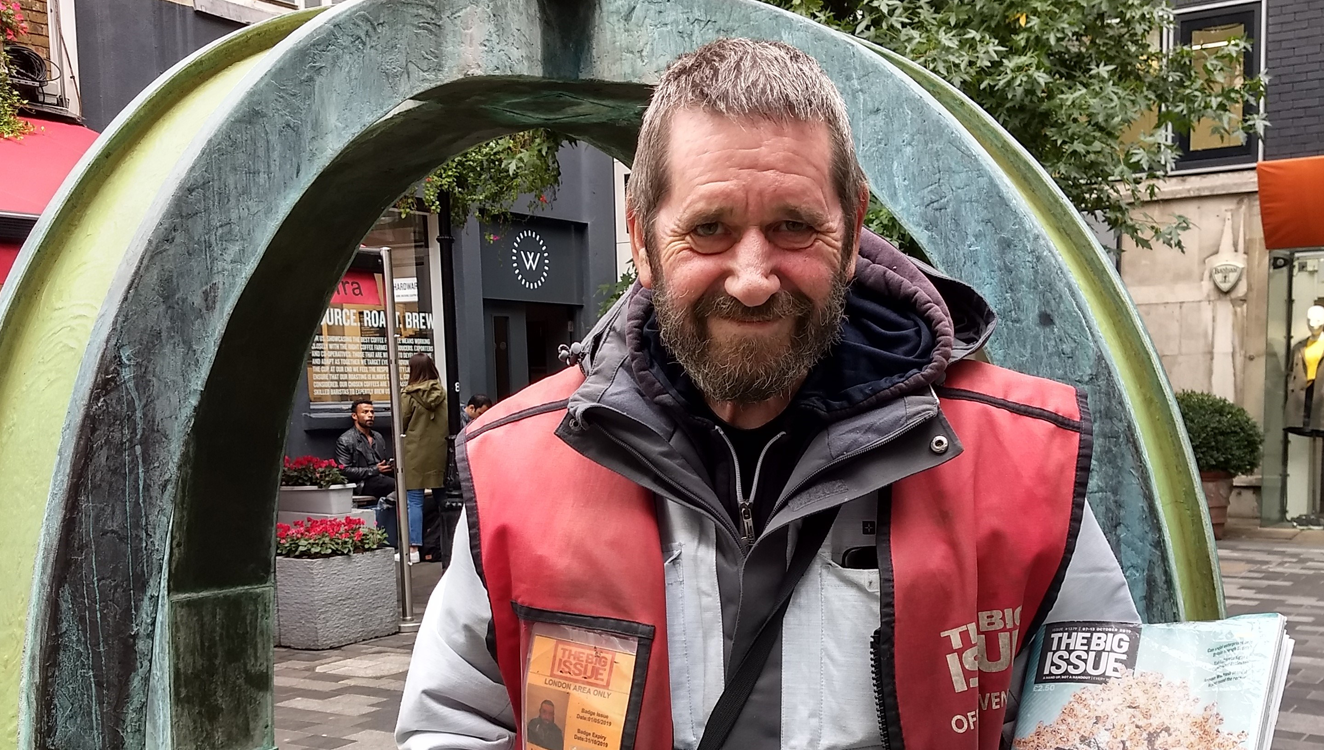 When and why did you start selling the Big Issue? Tell us a bit about your story.
I started selling the Big Issue over 10 years ago because I was homeless and I needed an income.
What's your pitch like? How long have you been there for?
I've been on the St Christopher's pitch for about 18 months now. This is probably the best pitch I have had since I have been with the Big Issue. I have sold on other pitches before like Great Portland Street, Oxford Street… but this one is the best one. In St Christopher's Place it's like a community and people are very friendly and helpful.
Do you have many regular customers? How do they support you?
I do have regulars, some of them just pass through St Christopher's Place and others live and work here. They buy the magazine and occasionally buy me coffee or food as well!
What's your housing situation like?
I continue to sleep rough but hoping this will change a bit next year. I will just have to wait and see. I have my own plan.
What are your hobbies?
It is difficult to have hobbies when you are on the streets. I like going to the park and watching the wildlife. I sometimes also use my phone that the Big Issue Foundation helped get for me to look up the news or the weather.
What are your plans for the future?
My plans for the immediate future are to carry on working with the Big Issue and stay on this pitch. I wouldn't want to lose it! In 2 and a half years' time I will get my state pension and I will retire. I hope to travel in the UK and beyond the UK. I want to see many places. South of Spain definitely, Italy, France. I want to do some walking like Peddars Way and visit the Hadrian's Wall.
Having a safe home and living environment is a basic human need that many of us take for granted. So, why not take a positive step this #WordHomelessDay to help those around you that aren't as fortunate. Little changes in your behaviour and appreciation of the issue really can go a long way.