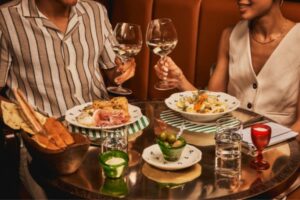 New Autumn dishes at Harry's Bar
Sample some new dishes from our heart-warming and authentic autumn menu at Harry's Bar. With dishes such as Burrata with Prosciutto and 'Nduja Broccoli Pizza we've taken Italian classics and given them a own Harry's twist.
Harry's has a Negroni for every occasion.  With the colder days approaching there has never been a better time to visit Harry's for some warming food and a delicious Negroni. Roll the dice and see what delicious combination you land on.
Join the team at Harry's for brunch where you can experience the rich flavours of Italy. Enjoy their delicious Italian coffee and choose from an array of classic brunch dishes. There's no better way to enjoy a leisurely morning so book now and elevate your weekend.