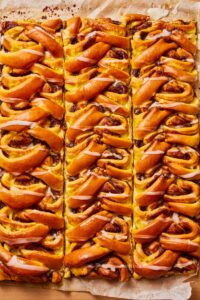 For the second year running, Danish bakery Ole & Steen are proud to continue supporting LGBTQ+ charity, Switchboard. This Pride, the all-day bakery will celebrate this historic celebration of diversity, freedom, and love by supporting the helpline service for the LGBTQ+ community that's been running since 1974.
Throughout Pride month, Ole & Steen will donate £1 for every Whole and Half Social of any of their famous Socials sold throughout June, to help support the vital services they provide. Switchboard's volunteers, who all identify as LGBTQIA+, have conversations with people across the UK and beyond, on a range of topics and issues ranging from sexuality to gender identity, mental and sexual health, isolation and more. Alongside this, the Danish bakery will continue with its initiatives set-up to support and fuel the volunteers who selflessly lend a listening ear to those who need it most in the LGBTQ+ community. From 10% off all purchases and a free hot drink for Switchboard volunteers in any of their bakeries, to providing meals for Switchboard training days throughout the year. The all-day bakery also offers Ole & Steen employees, within the LGBTQ+ community, support to become Switchboard volunteers.
What's more, Ole & Steen are planning on joining in the celebrations the London Pride weekend, by giving away over 3,000 rainbow sprinkled Honey Hearts to spread the love to parade goers. Passers-by will be able to get their hands on one of these delicious sweet treats at the St Christopher's Place store on Saturday the 1st of July, but hurry, once they're gone, they're gone!