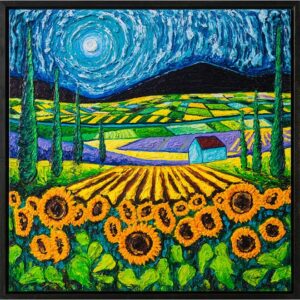 In a landmark new collection for Castle Fine Art, Scarlett Raven launches her new Lasting Impressions series. Full of love for our natural surroundings, and inspired by her admiration of Vincent Van Gogh and David Hockney, Scarlett's new pieces are her most passionate yet. The two artworks 'Sunset on Poppy Field' and 'Sunflowers Amongst Cypress Trees' are available as a giclée on paper as well as boxed canvas.
Scarlett has developed her vivid landscapes since her last collection, painting from images she has photographed near her home, and working in her signature impasto style with great physicality, digging into the layers of paint as a farmer would into the soil. "I'm really proud of this collection," says Scarlett. "A 22-painting series is a huge journey, and this is only the beginning".
"Lasting Impressions is definitely a progression, a growth, a movement from my last collections. It incorporates everything I've learnt, physically, technically, emotionally. Everything has been building up and influencing this collection".
Learn more about the Lasting Impressions collection from Scarlett over on the Castle Fine Art YouTube channel or pop into the gallery to view the canvas editions - Giclée on paper editions of 'Sunset on Poppy Field' and 'Sunset Among Cypress Trees' are now available on the Castle Fine Art website for £295 each or £575 for the set of two.