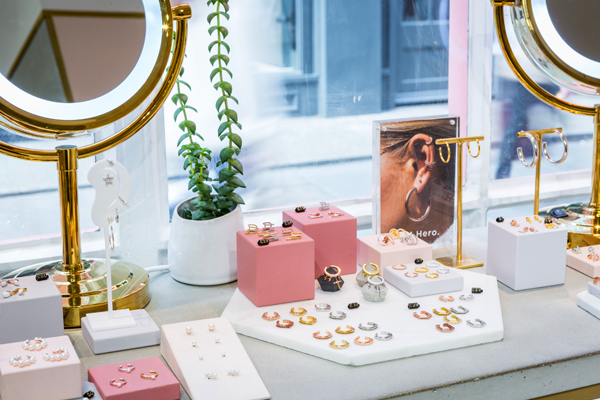 This week our spotlight is shining on the jewellery designs queens, Astrid & Miyu. Their founder, Connie Nam, began designing, manufacturing and marketing jewellery in her flat. Now they're a cornerstone of St Christopher's Place who want to celebrate and empower you to express your individuality!
Best known for their signature ear stacks, piercing service and customisable ear bar (which started life in St Christopher's Place). In store, you can work with their retail stylists to create your own personalised ear stack using new piercings and their signature ear cuffs, huggies and barbells.
While you're there, you can explore their brand-new Summer Collection that's all about celebrating British summertime. Think new chunky chains, rope hoop earrings, dainty shell charms and pearl accents. All perfect for warm summer evenings and a constant reminder that brighter times are ahead.
Just like us at St Christopher's Place, they are dedicated to looking after each other, their customers, and their community. That's why this year they're prioritising their Giving Back Initiatives by donating to charities they believe in like Bloody Good Period and Women's Aid. Plus, they're currently running a 30% off discount for NHS staff and teachers to say a great big thank you for all their hard work, particularly over the last few months.
So, if you're in need of a bit of sparkle in your life, head down to their St Christopher's Place store Monday to Saturday from 11am until 7pm, or Sunday from 11am until 7pm!