Looking for a pizza fix this Veganuary? Then head on down to Homeslice.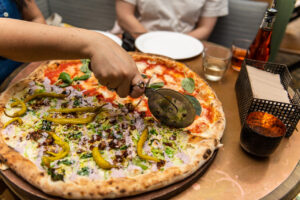 The Homeslice menu is focused on fresh, quality produce and evolves seasonally, balancing classic combinations with more innovative flavour and texture profiles.
66% of the menu can be made vegan-friendly, including the most popular Symplicity Fennel 'Sausage', Garlic & Basil Foudue, Smoked Tomatoes and Lemon Pangratta and Symplicity 'Lamb', Savoy Cabbage, Sumac Yoguhrt and Guindilla Chillies.
The vegan options will be remaining on the menu beyond January, catering for plant-based diners all year round.