Warm up at Ole & Steen this autumn
Discover the joy of Autumn at Ole & Steen with three delightful lattes to discover. From Pumpkin Spice, to Chair to Matcha, enjoy the perfect blend of warmth for a crisp day.
A trio of lattes are waiting to be discovered this season - bringing you the perfect blend of Hygge and flavour to warm your heart and soul on those crisp, autumnal days. So it's time to get cosy, wrapped up in your favourite blanket, and let the aroma of these seasonal sensations fill your heart and home with a little joy.
Pumpkin Spice Latte
Our house blend espresso mixed with pumpkin spice syrup, combined with expertly steamed milk and topped with whipped cream and a sprinkling of cinnamon.
Chai Latte
Tiger spiced Chai Latte powder combined with expertly steamed milk.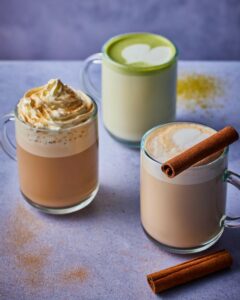 Matcha Latte
Tranquillity in every sip. Relax, and let the green goodness of Matcha flow.