When you visit us, you don't ever shop the same. Be it because of our range of independent boutiques and exciting restaurants, but also because of the forward thinking sustainable initiatives many of our brands and stores are introducing.
An important issue that's always in the back of everyone's mind is the environment. Climate change, pollution, environmental degradation or resource depletion – we're all asking how we can make a change that will really have an impact?
With The Body Shop, opposite Bond Street tube station, re-opening its doors to a transformed sustainable concept (refill station and all) and many other big brands already taking the leap, shopping sustainably, or at least more aware, is a smart first step.
Whether it's creating products (or their stores) from raw and recycled materials, reducing their waste footprint by reinventing packaging or making sure they're giving back to local charities, there's been 'green' thinking going on within St Christopher's Place for a while.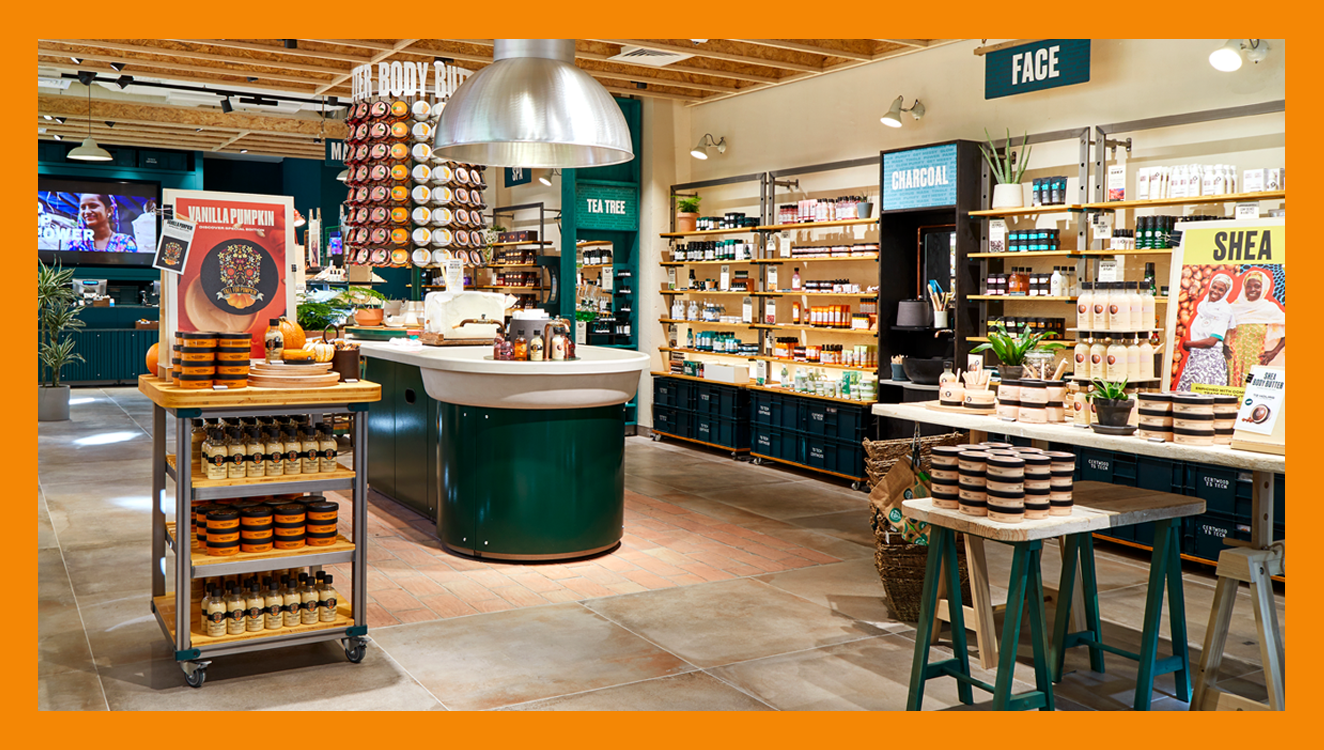 The Body Shop
A brand that has long been renowned for its attention to sustainability, The Body Shop's products range from body scrubs to fragrances and all ingredients are ethically sourced.
Step inside The Body Shop on the edge of St Christopher's Place and enter an interactive 'activist workshop' that's encouraging us all to "scrub up our bodies and scrub up the world". Visitors can explore, experience and test out their products like never before, with staff on hand each step of the way to educate customers on the sustainable processes going on behind the scenes.
If you're fed up of plastic waste, then you can purchase a refillable 250ml aluminium bottle from the store and fill it up with a special selection of Body Shop shower gels or creams – there's even a UV pod that sanitises the bottle right in front of your eyes. Or head over to the activism corner to learn about the different causes they support (from Women's Rights to Climate Change).
But what is really impressive about the new store is that it has been completely fitted out with 'green' materials like reclaimed wood and recycled plastics to help minimise its environmental impact. You'll instantly notice the raw edges on the worktops, green crates to hold excess products and visible zinc cladding on the ceiling.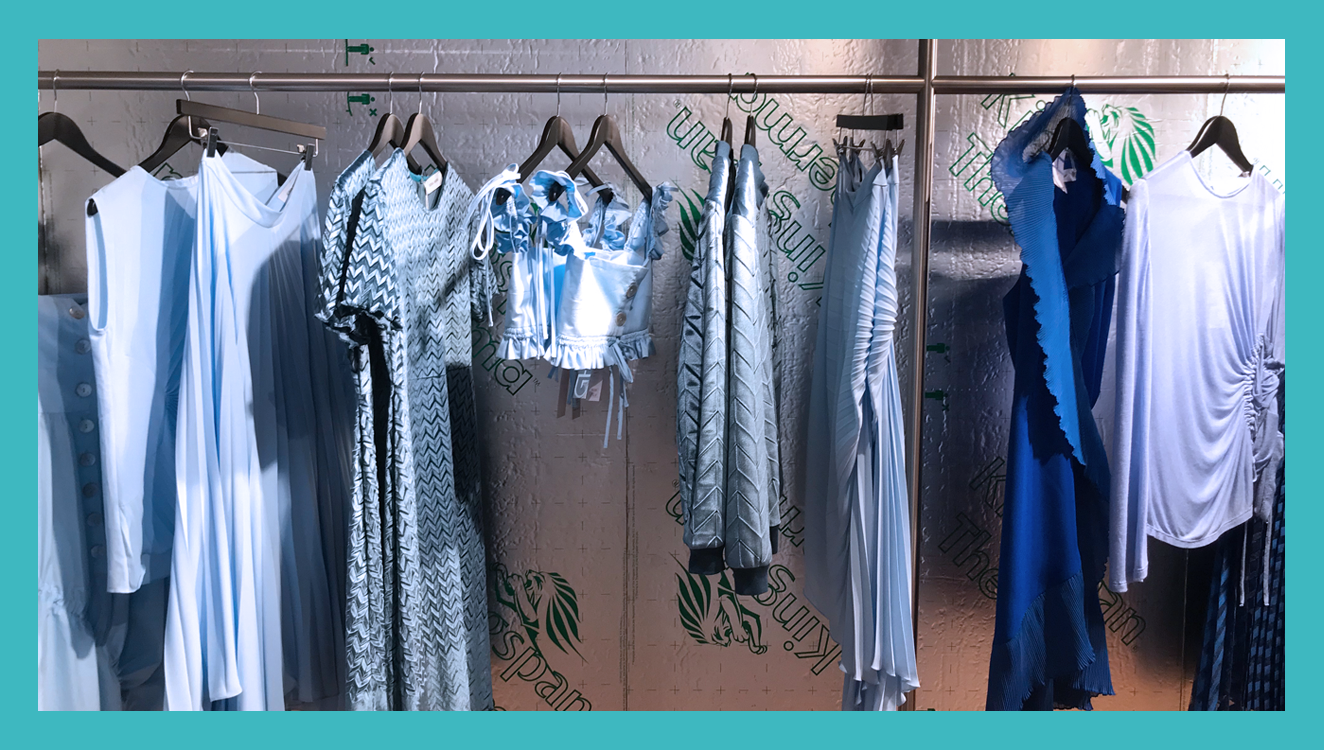 Georgia Hardinge
Exposing the raw materials that would usually be covered during installation isn't a new concept. The Georgia Hardinge flagship store in St Christopher's Place, that opened in June 2019, has been completely fitted out by repurposing materials that had been left behind at building sites.
The idea: to give existing and forgotten products a secondary use and create an immersive shopping experience for customers to learn more about the unique, bespoke process behind the clothing.
Methodically placed aluminium (which is 100% recyclable) and mirrors reflect light throughout the store creating illusions that subtly mimic the folds, structures and pleats within the designs.
From the fibres that make up the materials, through to production and packaging, the impact of each element of the design process is considered by Georgia Hardinge. Starting from AW19 her collections will introduce certified sustainable fabrics sourced with materials organisation 'The Sustainable Angle'. Rest assured if you buy from Georgia Hardinge, you're investing in a piece that is both high-quality and responsibly made – a very different ethos to the fast fashion world many of us are used to.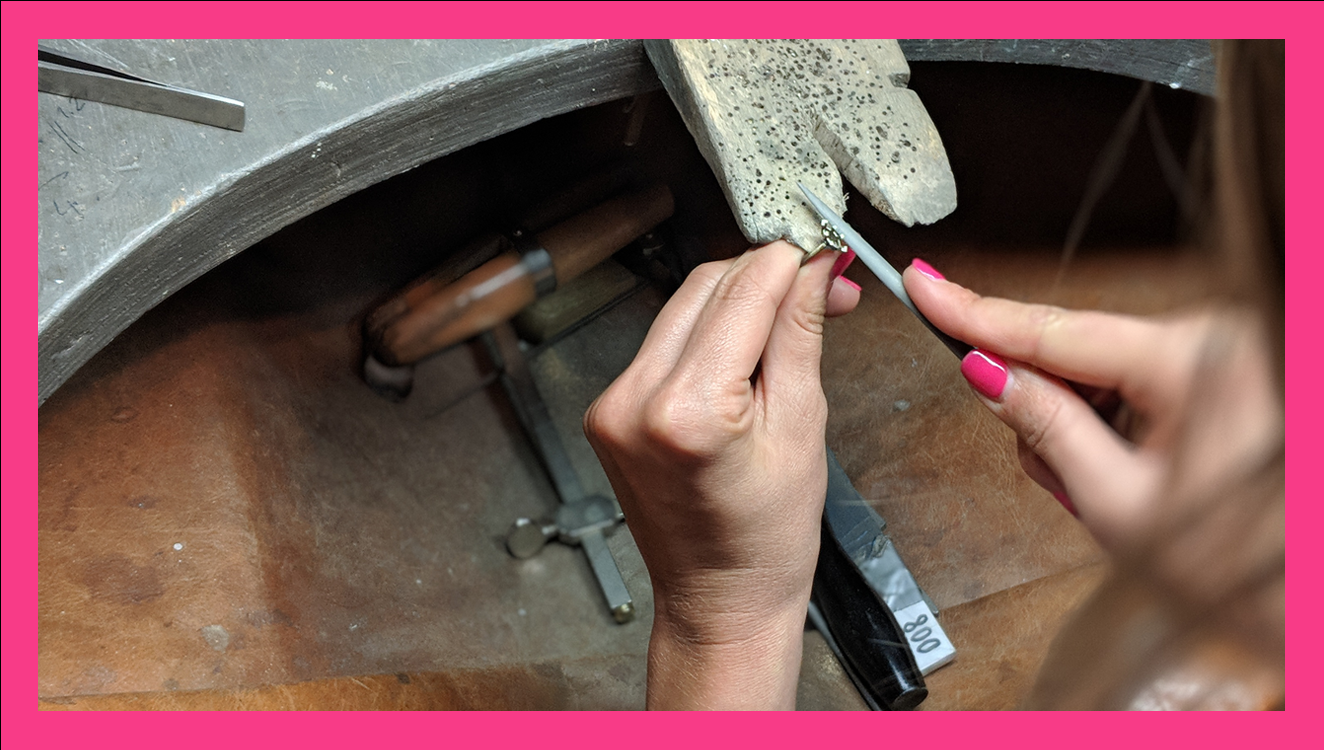 Maya Magal
Jewellery brand Maya Magal are equally conscious when it comes to how they source their materials and create their collections. The epitome of handmade craftsmanship, their 'Off The Bench' collection features one-of-a-kind pieces straight off the jeweller's bench and an upcoming collaborative collection with Anthropologie will use recycled silver. Visit the St Christopher's Place store and you can often spot their jewellers at work.
They also have a zero packaging incentive that offers £5 off to customers who decide to wear their jewellery home right after purchase or reuse their packaging on their next trip. You can't deny the excitement of opening a jewellery box to peek at what's inside, but packaging has a very short and unnecessary lifespan as it is usually disposed of as soon as you get home.
Pret A Manger
Two of the most difficult single use packaging habits to let go of are the coffee cup and plastic water bottle; morning, afternoon or evening, we consume countless drinks in the working day. Bring a reusable coffee mug into Pret A Manger, Costa, Starbucks, Euphorium and Workshop (the variety of coffee shops in St Christopher's Place) and their teams will fill it up. Or if you're in need of a water bottle top-up, Pret A Manger and The Body Shop in St Christopher's Place, have designated refill stations.
We bet you didn't know, that Pret A Manger have also been sourcing renewable electricity for all their shops in the UK since 2015 and reducing energy consumption has been a key focus for them this year. This means, amongst other things, that their kitchens, are powered by wind, solar, and hydroelectric energy.
But they also understand that sustainability doesn't just benefit their business, it also helps the community around them. Ever since Pret opened the doors of their very first shop, they've been giving away unsold food to the homeless. What started as a solution to food waste has grown into a mission: to alleviate homelessness from the streets of the West End and rest of the UK. Donation incentives on products (such as, 10p from every soup sold and 50p from Christmas lunches) and the generous donations from collection boxes in-store also go towards the cause.
Trust us when we say this is only scratching the surface on sustainability in St Christopher's Place. So, keep an eye on our blog and social media channels for regular updates on how our stores are making an impact. You know it's w-earth it…