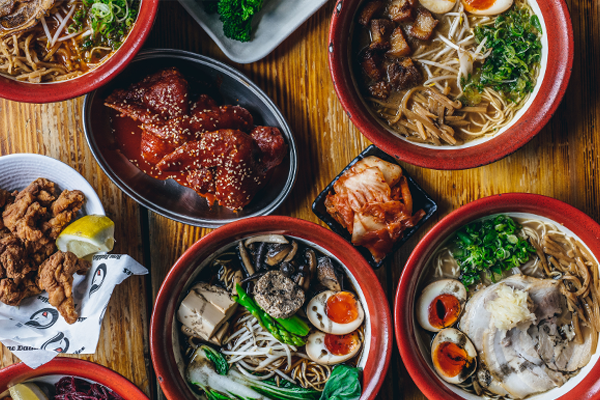 That's right, Bone Daddies has launched its very own #BoneAtHome delivery and collection menu and it's available to order right now from their St Christopher's Place ramen bar!
For the uninitiated, Bone Daddies sparked fresh passion for Japanese cuisine in the capital almost a decade ago, including the bao bun craze that still rolls on.
So, even though you can't visit their Japanese street-style bar to dine in yet, you can enjoy their delicious dishes from the comfort of your own sofa thanks to #BoneAtHome.
There's a whole host of signature ramens to choose from featuring slow cooked pork belly, pulled chicken or meaty shiitake mushrooms, as well as other popular Japanese 'soul food' dishes, such as Korean Fried Chicken Wings, Sweet Spicy Pigs Bones and an incredible Tofu Poke.
#BoneAtHome means you can order and collect from their restaurant or even order through Deliveroo if you're within a mile of the bar itself. You can place your order from 5pm every Monday through to Friday, or from 11.30am on Saturday and Sunday, with last orders 10pm each day.
They've been trialling this service for a while now at their other restaurants and have got their service nailed down.
So, what are you waiting for? Check out the #BoneAtHome delivery and takeaway menu via Deliveroo or through their website. And call 020 3019 7140 to make your order.